It's the bird we have to tackle at least once a year – the Thanksgiving Turkey! There are so many ways to cook a turkey, and every year many people have the debate as to which way is the best. I don't know if there is really one best way, as they all produce different results for different tastes. If you want your turkey fried and breaded, that's one way to do it, but may not be for everyone. Let's say you've decided on cooking your turkey in the oven. What next? Do you use a foil tent, an oven bag, or nothing at all? So many questions and a variety of answers, but one thing I think we can all agree on is that we want a MOIST turkey. Am I right?
I have had many dry turkeys over the years, and with the time and effort that goes into Thanksgiving meal, nobody wants to be disappointed with that bird, on that day! While I was at cooking school for Reynolds Wrap°, I cooked my first turkey using an oven bag. While you don't get a nice crispy skin, it produces such a moist turkey. I couldn't believe it! So, I thought I would help you out with your Thanksgiving Turkey by showing you how to cook a turkey in an oven bag.
Before cooking your turkey, you have to actually purchase the turkey. I thought I'd tell you about an upcoming promotion at Save Mart and Lucky Supermarkets, to help you save on your turkeys and some other meats. From 11/13 thru 11/26, Save Mart is having a buy one get one free sale on any of the following mix-and-match items:
Riverside or Honeysuckle White Frozen Turkeys
Cooks Ham Portions
Master Cut Beef Cross Rib Roasts
Pork Shoulder Roasts
Honeysuckle Turkey Breasts
I recommend following Save Mart on Twitter and following the #FreshFinds hashtag, to see what other yummy recipes you can create using this meat sale! Now for the recipe…
Seasoning your turkey is super important. There are so many ways to season your turkey, but I find this mix of herbs to be quite tasty, (List included in the recipe below). First you need to drizzle and rub oil or melted butter over your entire turkey. Then sprinkle the herbs over the turkey, rubbing them in really well. If you can lift up the skin at all, and rub the seasoning underneath – even better!
After you've given your turkey a good rub down, it's ready to be baked. You will need a roasting pan that is at least 2″ deep, and a Reynolds Oven Bag.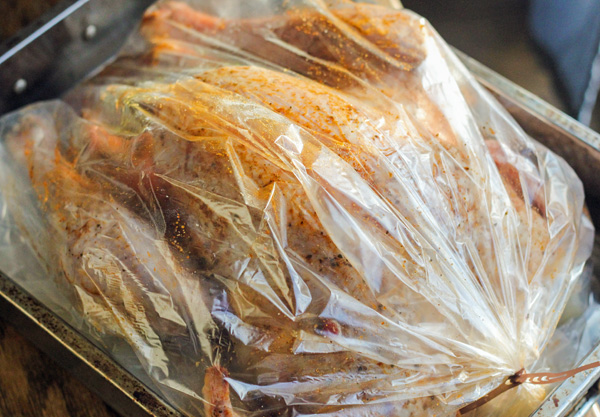 There are some great instructions and cooking times on the box of oven bags, so use that if you need to. Before placing your turkey in the bag, it is important to pour 1 Tbs of flour into the bag. Then place a wedged onion in the bottom, and top it with your turkey. Tie the bag shut with the enclosed tie. Lastly, you need to cut six 1/2″ slits in the top of your bag. Then tuck any portions of the bag that may be sticking out, inside the pan. Bake time varies depending on the size of your turkey. I have suggested bake times in the printable recipe, below.
After turkey is done cooking, allow it to sit in bag for 15 minutes before carving. Enjoy!
Thanksgiving Turkey in an Oven Bag
Ingredients
Reynolds® Oven Bag, Turkey Size
1 Tbs flour
1 medium onion, cut into wedges
8 to 24 pound turkey, thawed
2 Tbs oil or melted butter
1 Tbs salt
2 tsp seasoned salt
¾ tsp ground black pepper
1 tsp poultry seasoning
1 tsp garlic powder
1 tsp paprika
½ tsp ground red pepper
1 tsp dried basil
¼ tsp ground ginger
Instructions
Preheat oven to 350°.
Shake flour inside Reynolds Oven Bag and place in a large roasting pan that is at least 2 inches deep. You can opt to spray the inside of bag with nonstick cooking spray if you desire.
Place onion wedges in the bottom of the bag.
Remove neck and giblets from turkey, then rinse and pat your turkey dry. Brush with your 2 Tbs of oil or melted butter.
In a small bowl, combine all seasonings and rub into the entire turkey.
Carefully slide turkey into the oven bag, making sure the opening of the bag is facing the end of the roasting pan, and not facing up.
Close oven bag with the included nylon tie, and cut six ½ inch slits in the top of the bag.
Baking time varies depending on the size of your turkey. You can refer to the Oven Bag directions or use the reference below.
When your turkey reaches an internal temperature of 180°, remove from oven and let stand in oven bag for another 15 minutes. Cut open the top of the bag and carefully remove turkey from the bag, and place onto a cutting board. Lifting works well by inserting one carving fork into each end of the turkey.
After carving, drizzle extra drippings over the meat. Super tasty!
Baking times:
-2 hours for 8-12 lb turkeys
-2.5 hours for 12-16 lb turkeys
-3 hours for 16-20 lb turkeys
-3.5 hours for 20-24 lb turkeys